The top bar hive is the oldest and most commonly used hive style in the world. It features individual bars laid across the top of the hive cavity. The bees build their comb down from these bars naturally, without the use of a 4 sided frame or foundation. Generally the bars are a wooden wedge or strip with a guide to ensure combs hang straight.
With a horizontal top bar hive, beekeepers don't have to lift heavy boxes, purchase an expensive honey extractor, use foundation full of chemicals, or agitate the bees as much as box-style hives when managing the colony. Traditional honey supers and deeps can weigh upwards of 50 pounds each, which takes its toll on the body of the beekeeper. The heaviest comb you'll need to lift with this style is a single 3-7 pound, honey-laden top bar. They do not require honey supers, extra frames, foundation, queen excluders, uncapping knives, extractors or other expensive tools; they can be incredibly easy to manage by intrepid beekeepers.
ADVANTAGES OF USING A TOP BAR HIVE
• No heavy lifting, crouching or bending is required for hive inspections
• Combs are easy to remove
• Full length observation window
• Simple honey harvest
• Quick inspections
• Bees are more docile during inspections since you are only opening a small portion of the hive at a time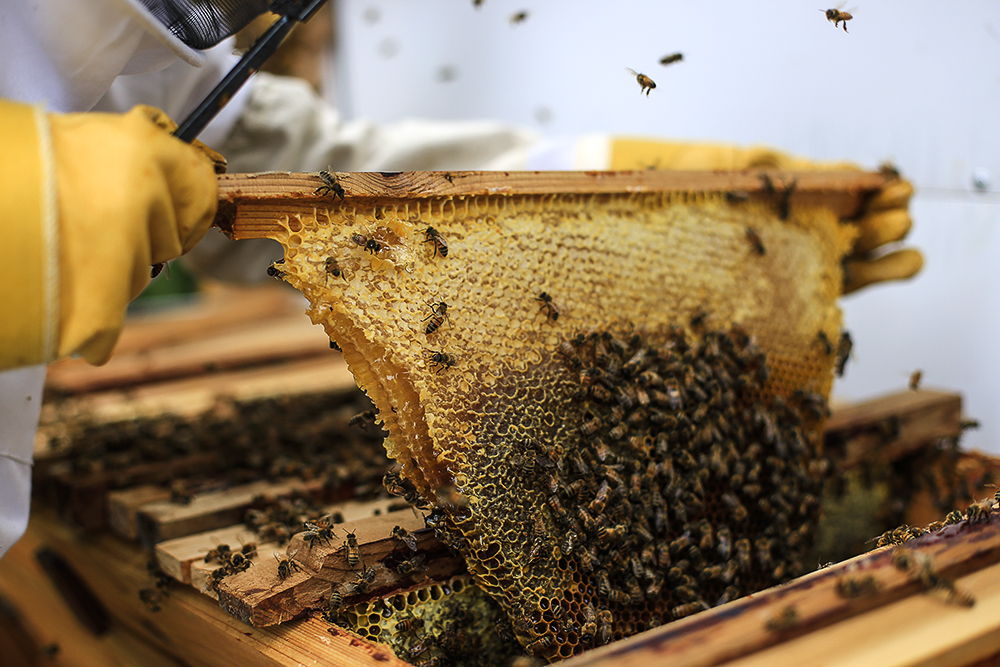 Top bar hives have likely been used for thousands of years. There is evidence they were once used in Greece in the form of a pot or basket with sticks laid across the top. They are one of the most basic methods of managing bees as they are simple to build, simple to manage, and are more advanced than a skep or cavity from which the comb cannot be easily removed.
Basic management of a top bar hive requires frequent monitoring to ensure your bees have adequate space. These inspections, however, will be short and easy with the use of a full length window.
As the colony grows, move the divider board down the hive cavity and add empty bars. After final honey harvest, you should shrink the size of the hive cavity, so there is less space for your bees to heat during the winter months.
In a top bar hive, bees tend to attach their comb to the walls of the inner hive cavity. This requires an extra step: detaching comb from the hive before pulling bars out. With our Ultimate Hive Tool, this is made easy.  
Honey harvest in a top bar hive is simple with few tools needed. You will simply cut the comb from the top bars, crush and strain. Alternately, you can make a simple bucket strainer system using food grade buckets.
WHAT MAKES BEE Built TOP BAR HIVES SPECIAL?
OUR MATERIALS
The finest hives begin with top-quality lumber. We're proud to offer lumber options that are not only ideal for housing bees, but are environmentally conscious and long-lasting. All of our wood options are FSC® certified. That means they come from forests that are strictly audited to promote growth, protect ecosystems, protect indigenous rights, support surrounding communities and prohibit illegal logging. We don't compromise our environmental standards when we source our wood, and we don't compromise quality either. Our woods are stable, long-lasting, and provide excellent insulation for bees. All are harvested just a few hours from our mill in the Pacific Northwest. Whatever wood you choose, you're choosing a hive that is not only kind to the bees, but kind to the environment.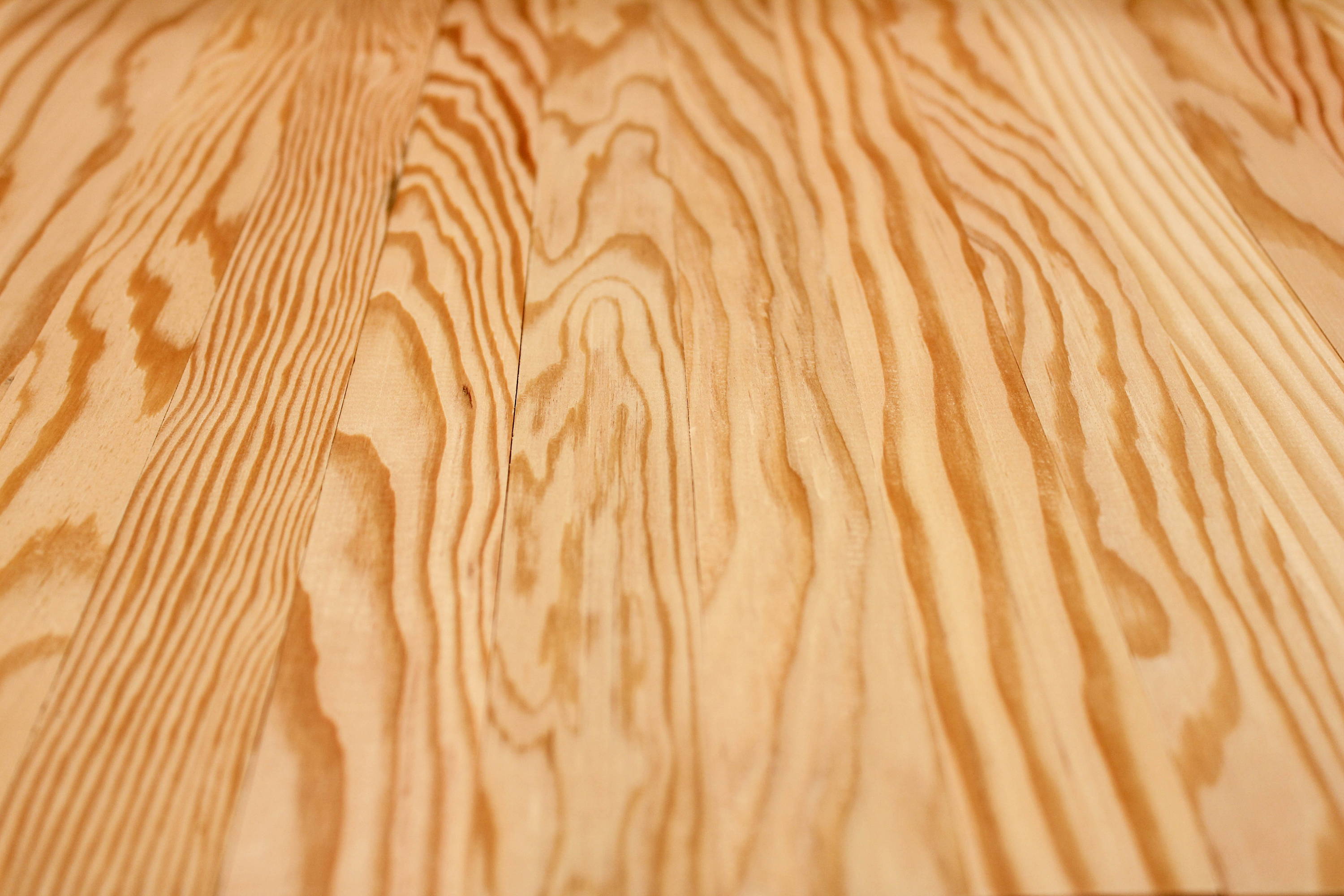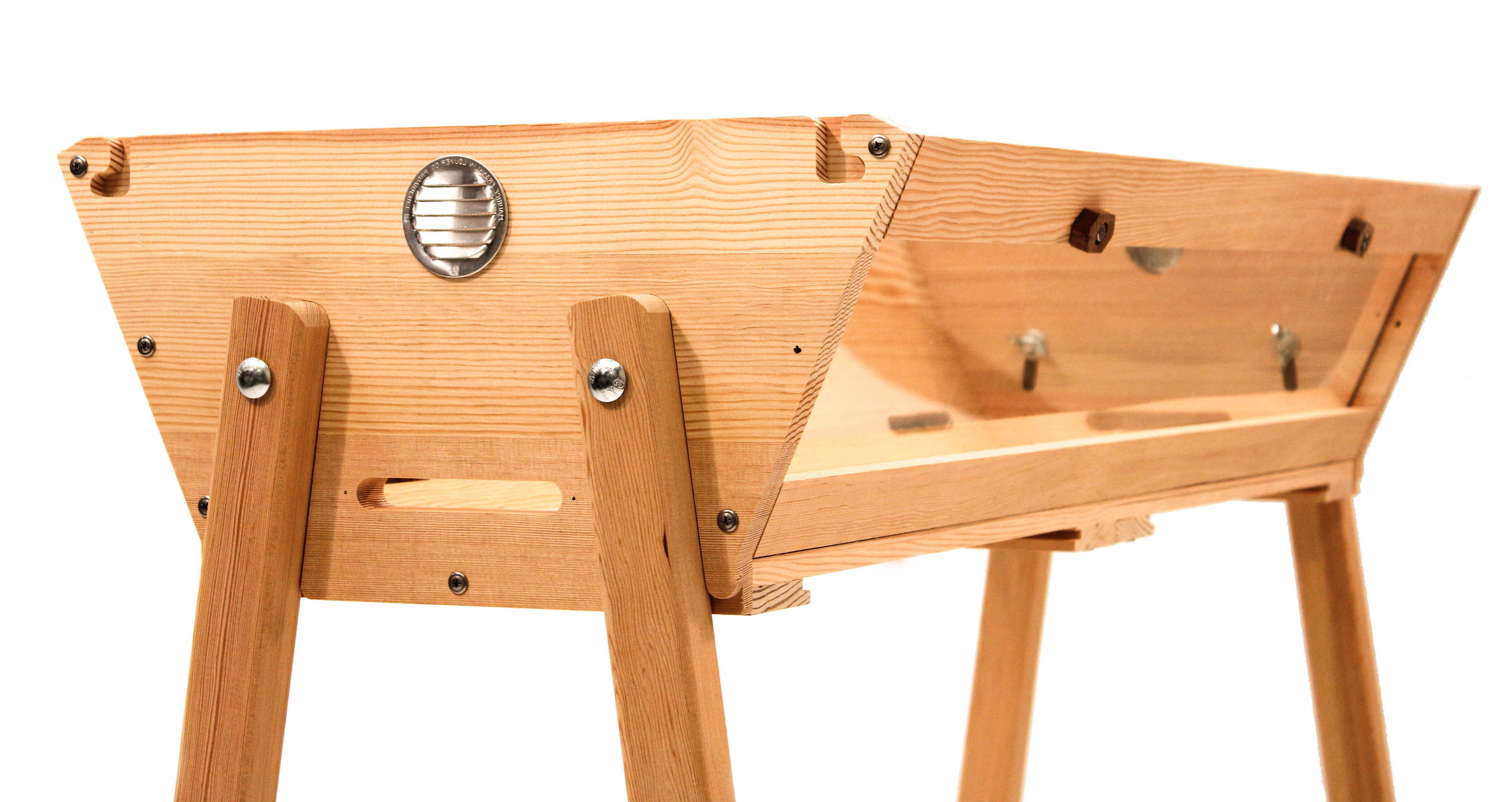 FULL VIEWING WINDOWS
Viewing windows come standard with our horizontal top bar hives. The window runs the full length of the hive, giving beekeepers an unhindered view of their colony without disturbing the bees. After you are done peeking at your bees, be sure to close the window. If too much light gets in the hive, your bees may choose to leave and find a new, darker hive location.
40" LONG HIVE BODY
Most available top bar hives are too small to allow a strong colony to thrive. In our experience, colonies outgrow horizontal hives shorter than 36". Our hive bodies are 40" long, 18" wide and about 19" deep allowing ample honey storage space to support the colony through winter with excess for the beekeeper to harvest. This longer hive body makes ours the largest readily available top bar hive.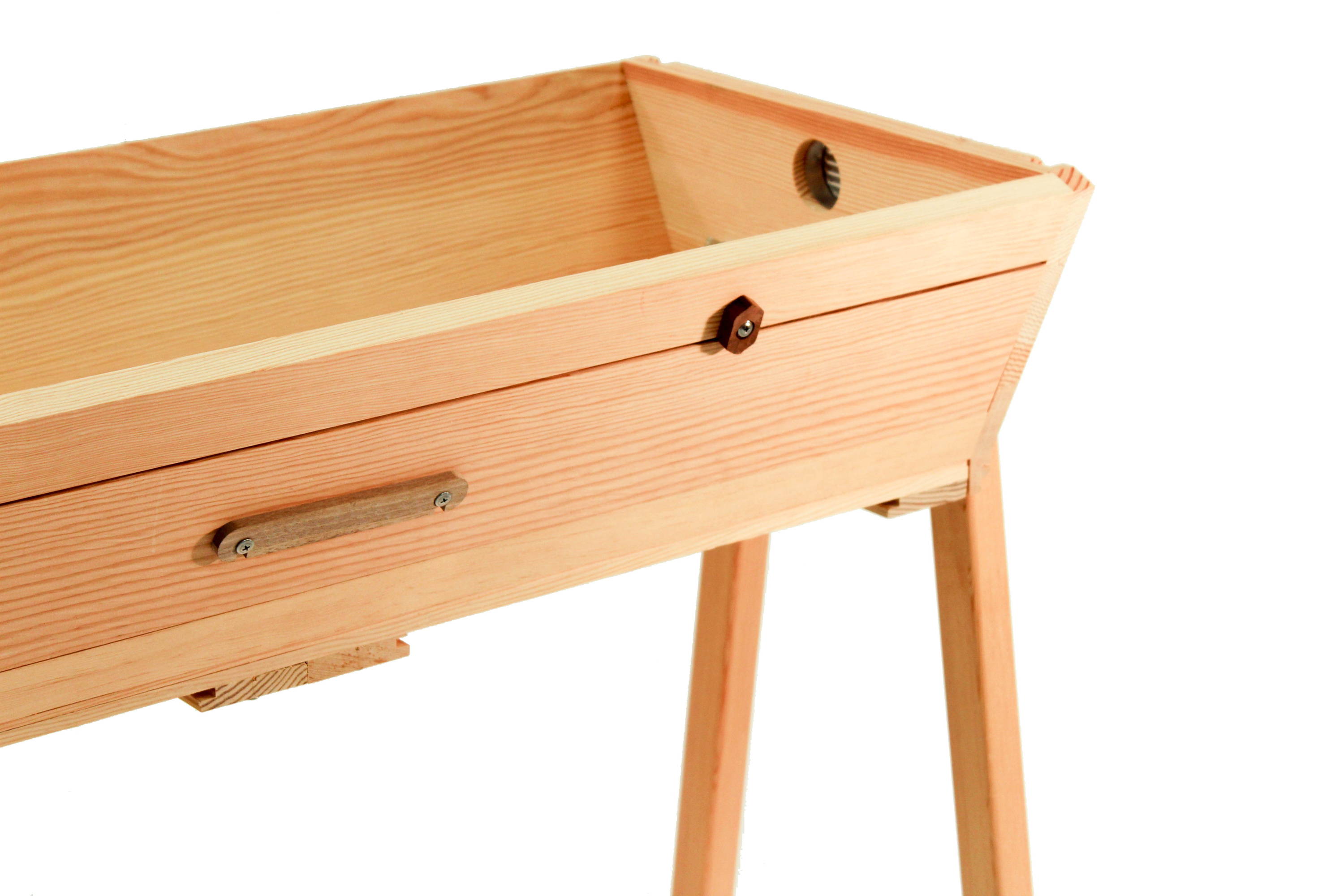 HINGED COMB CUT ROOF
Hive roofs can be heavy and hard to attach, which is why we invented a roof that hinges and easily lifts up out of the way. Not only is it easy to attach, but it can swing in either direction! Most other roofs attach with bulky hinges that rust or break over time. Our roof uses CNC cut grooves and bushings, allowing for easy opening and closure, and simple removal and attachment when needed. Its high pitch allows for optimum rain runoff and the its handsome shingled design elevates the aesthetic of the entire hive.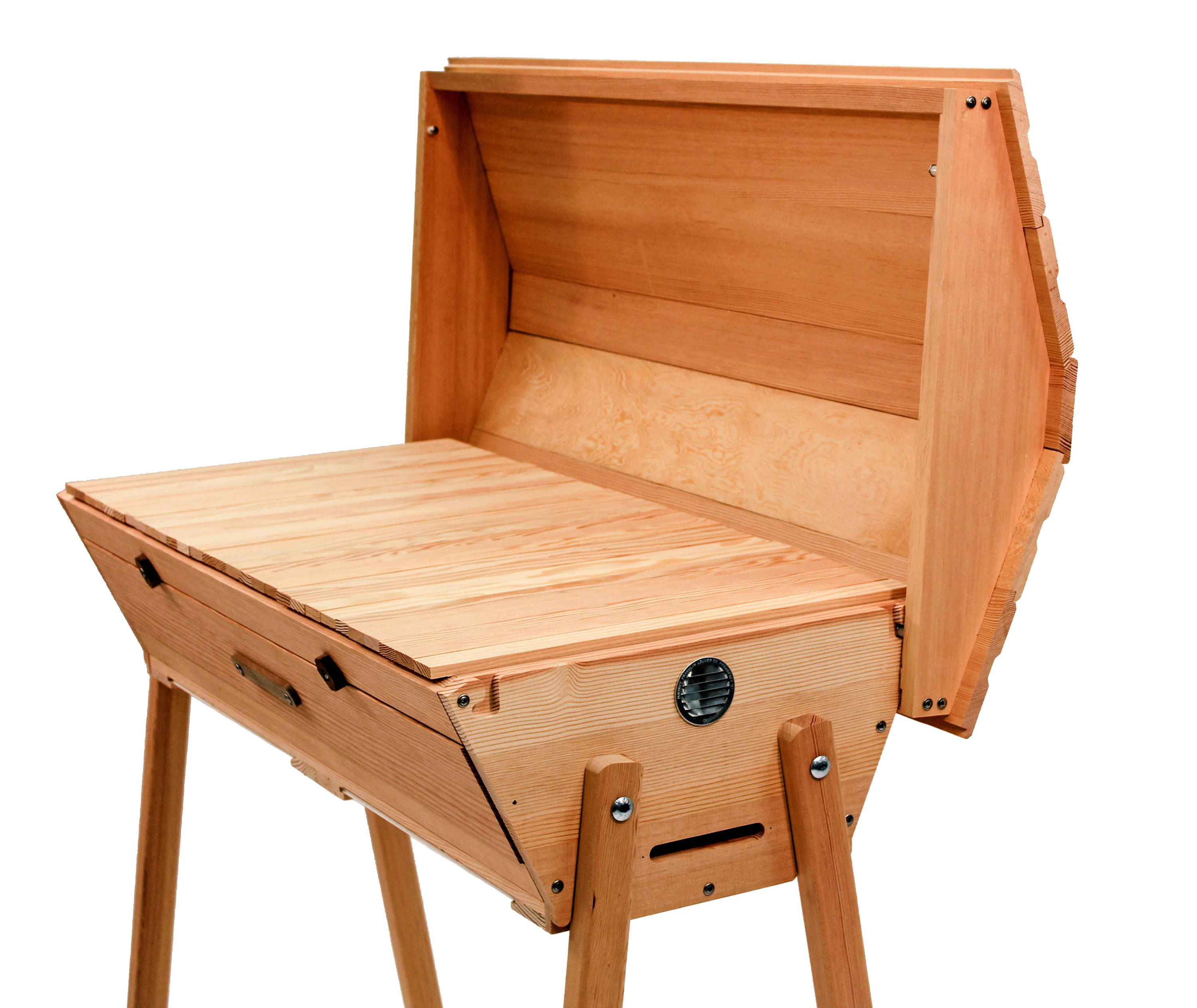 COPPER TOP (OPTIONAL)
Improve the life and appearance of your hive by adding a beautiful copper composite roof. Not only will it help with rain and snow run off, but you'll never have to paint or seal the roof. Copper composite doesn't corrode and leach into the soil like standard copper used in roofing. This composite material retains its color, insulates and reflects heat better than regular copper.
The precision-milled legs inset into the hive ends to create an incredibly strong and stable stand able to support well over 300lbs, plenty for even the strongest colonies in this hive.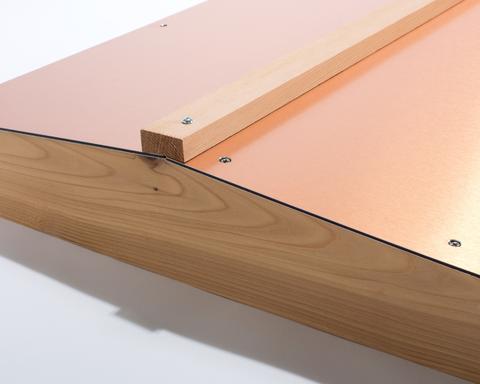 ONE PIECE WEDGE BARS
Wedge top bars have proven to be the most effective design to promote straight comb attachment and longevity. Our wedge bars are made from a single piece of wood without any need for glue or staple construction, allowing for optimum quality and stability. We manufacture our bars on precision equipment, and have used and trusted them for years in our own apiary. Bee Built top bars for the horizontal hive are designed to lay flush against one another along the top of the hive cavity. Appropriate bee space of ⅜" is preserves between the wedge comb guides.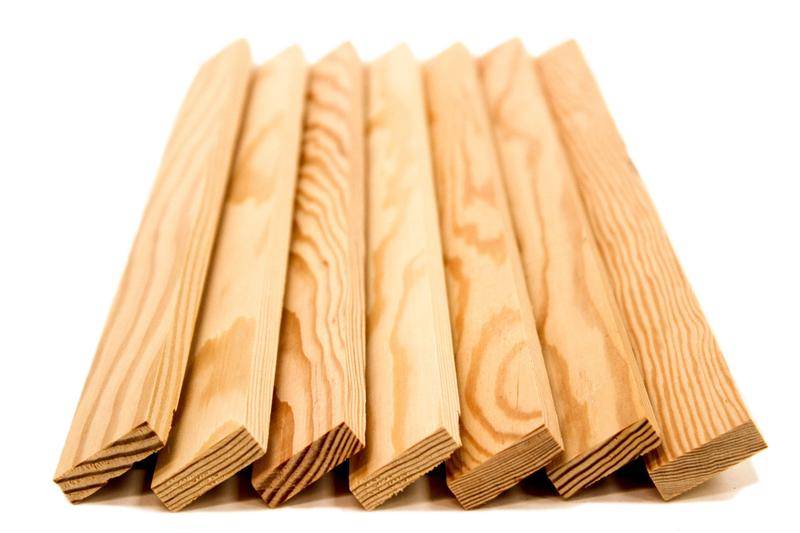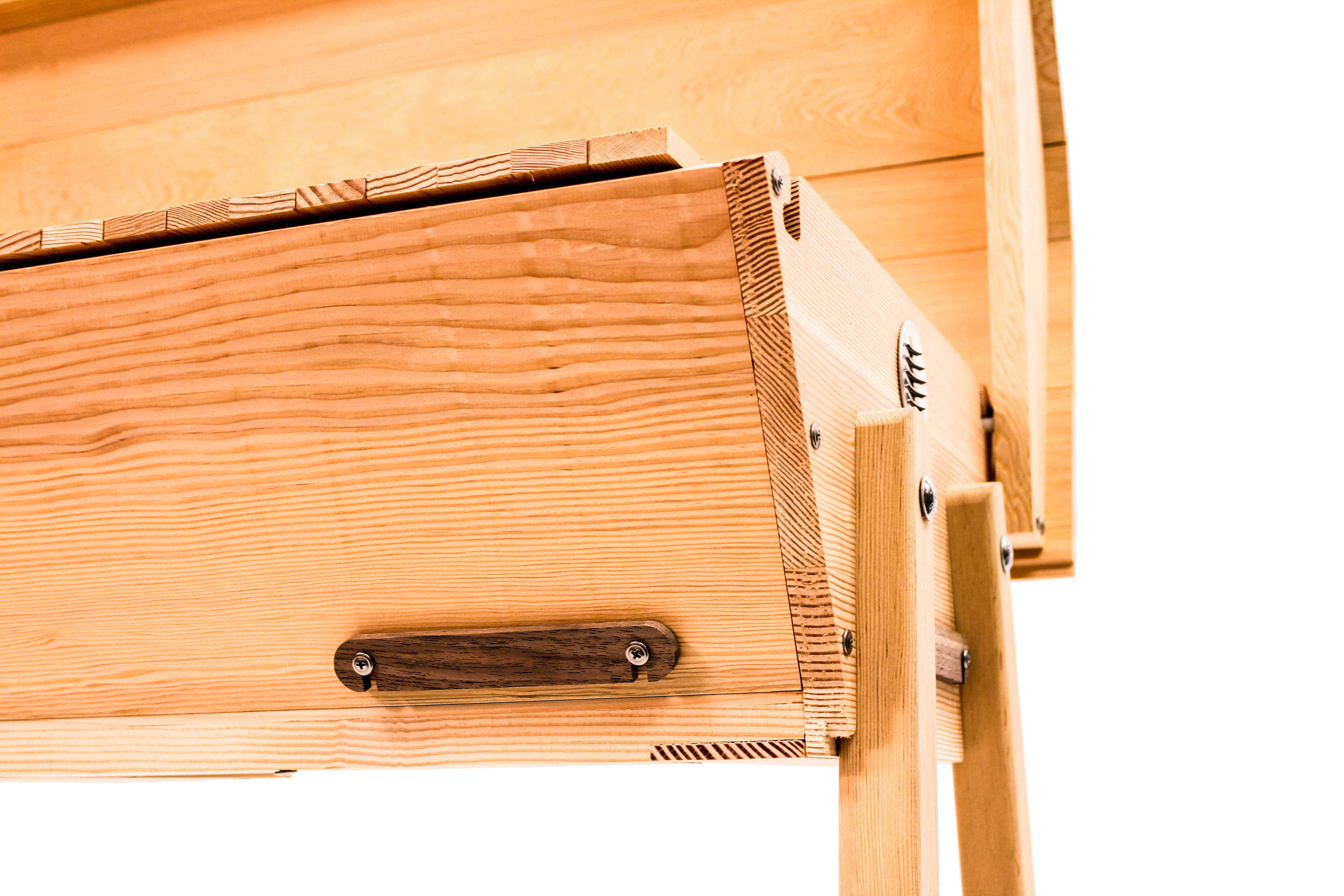 EASY ASSEMBLY
Our assembly instructions walk you through every step in the process. We pre-drill all components for easy assembly, and our CNC cut ends make it all fit together perfectly.
BEE BUILT GUARANTEE
We're confident we make the best hives on the market, and we stand behind our products.
Take a look at our return policy to learn more.